Processing Australian Seafood For Export
Welcome to our comprehensive guide on seafood processing, where we dive deep
into the intricacies of preparing and preserving high-quality seafood products.
Seafood processing is a vital step in ensuring the freshness, flavor, and
safety of seafood before it reaches consumers' plates.
At our facility, we employ cutting-edge techniques and adhere to strict
quality control measures to deliver exceptional seafood products. Our team of
skilled professionals combines traditional expertise with modern processing
methods to achieve optimal results.
From receiving the catch to the final packaging, our seafood processing
follows rigorous standards and complies with all necessary regulations. We
prioritize hygiene and maintain a sanitized environment throughout the entire
process, ensuring that the seafood remains safe for consumption.
Our advanced processing equipment allows for efficient cleaning, sorting,
and filleting of various seafood varieties. By leveraging the latest
technologies, we maximize productivity while minimizing processing time,
thereby retaining the seafood's freshness and nutritional value.
Whether you require whole fish, fillets, or value-added seafood products,
our streamlined processing techniques guarantee premium quality. Experience the
difference in our seafood processing that combines tradition, innovation, and a
commitment to excellence. Contact us today to explore our range of meticulously
processed seafood offerings.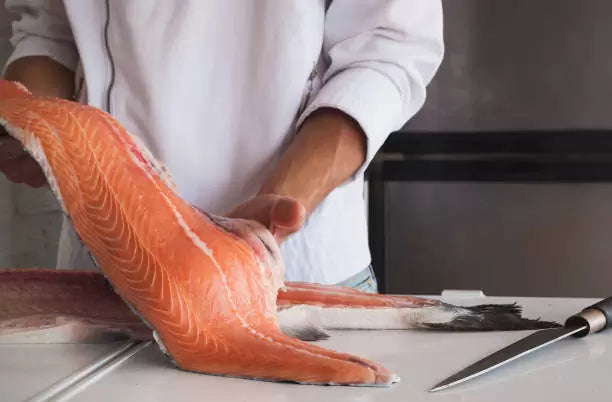 Chilled Seafood
At Pearl Seafood Exports, we prioritize preserving the pristine freshness of Australian seafood through our meticulous chilled seafood processing techniques. Our expertise ensures that every product reaches your doorstep with its natural flavors, textures, and nutritional value intact. From delicate sashimi-grade tuna to succulent lobsters, we understand the importance of preserving the delicate balance of freshness in chilled seafood. Experience the difference with Pearl Seafood Exports, where chilled seafood processing is an art form.
CONTACT US
Contract Packing Service
Pearl Seafood Exports is your one-stop solution for all your seafood processing and contract packing needs. We offer a comprehensive range of services to help you get your seafood products to market quickly and efficiently. Whether you need your seafood filleted, packed, or labeled, we can handle it all. We also offer a variety of value-added services, such as portion control and product customization.
CONTACT US