Pearl Seafood Exports Ensures Quality, Traceability and Cold Chain Expertise
Welcome to Pearl Seafood Exports, your premier seafood export company located
in close proximity to Sydney Fish Markets. With our strategic location, we offer the advantage of having fishing vessels land their catch directly into Sydney, or we can arrange efficient transportation from Coffs Harbour down to Bermagui.
At Pearl Seafood Exports, we pride ourselves on our state-of-the-art facilities. Our Registered Establishment No.1372 boasts a purpose-built tuna packing station that provides fishing vessels with quick access to the export market, including prominent destinations like Japan, the USA, and China.
Whenit comes to handling our prized Southern Bluefin Tuna (SBT), we go above and beyond to ensure its utmost quality. From the moment it enters our premises, we take meticulous care to prevent any bruising or damage. Our highly efficient process involves mechanically lifting the tuna from the bins and gently lowering it onto cushioned lined benches, where it undergoes thorough processing and cleaning in preparation for packing.
Maintaining optimal conditions for seafood preservation is crucial to us. That's why all our processing areas are temperature controlled to below 8 degrees Celsius. We strictly adhere to cold chain monitoring practices from the moment the tuna is loaded onto our boats until it reaches the freight forwarder. Additionally, for your peace of mind, we offer the option to ship temperature data loggers with every export, ensuring the integrity of the cold chain throughout the export journey.
By choosing Pearl Seafood Exports, you can trust that your seafood will be handled with the utmost care and precision, guaranteeing freshness and quality every step of the way. Contact us today to experience the
excellence of our seafood export services.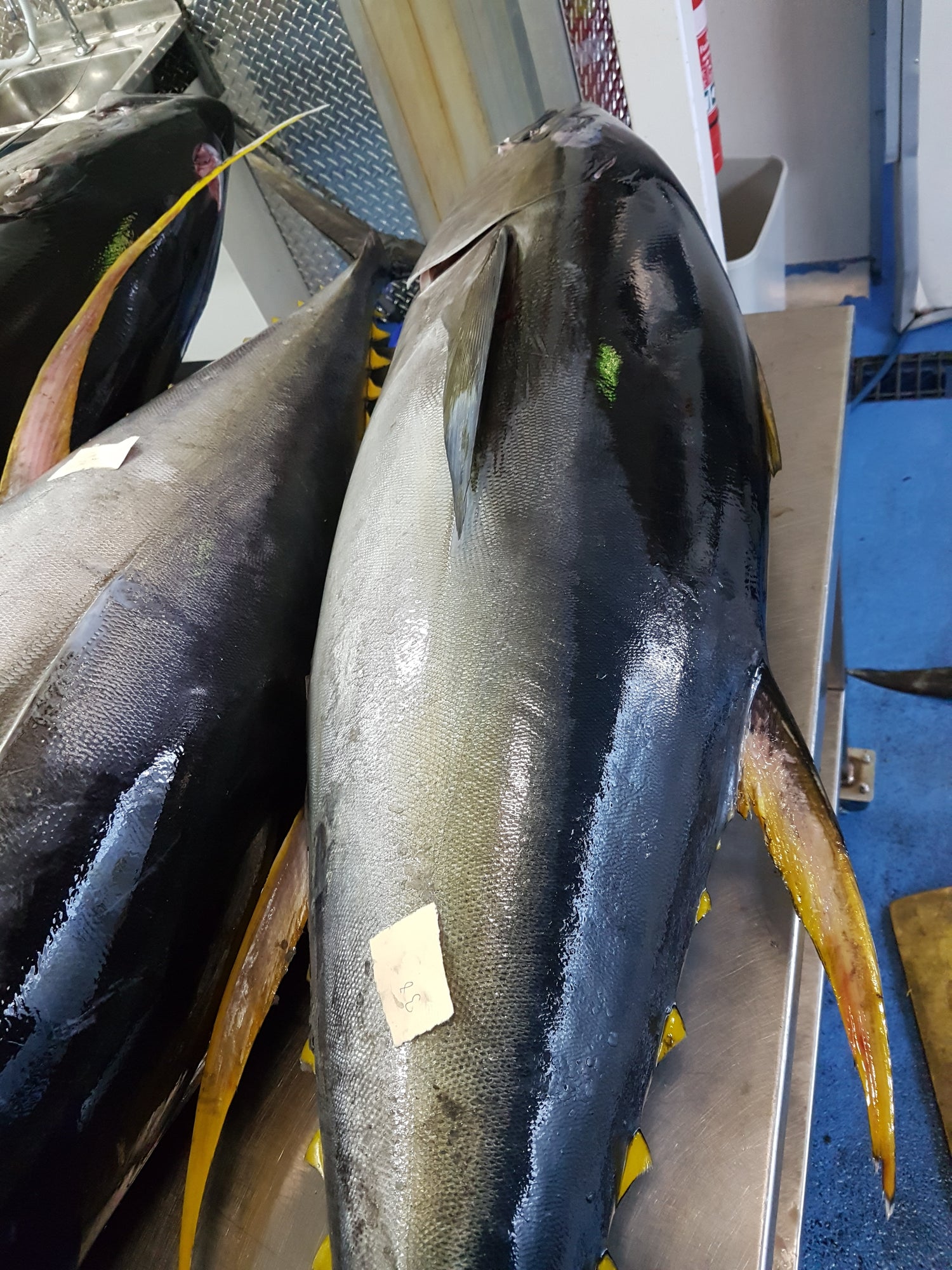 Expert Japanese Tuna Grading
At Pearl Seafood Exports, we take great pride in our commitment to
quality and customer satisfaction. That's why we have employed a highly
skilled and professional Japanese tuna grader as part of our team. With
their expertise, we can guarantee that all our shipments undergo
meticulous grading to meet the highest industry standards.
Having a dedicated tuna grader is a significant advantage for us and our
clients. It adds tremendous value to our tuna exports by ensuring that
each batch is accurately graded before it even reaches the market. This
thorough grading process confirms the exceptional quality of our
products and establishes their value in the eyes of potential buyers.
ORDER NOW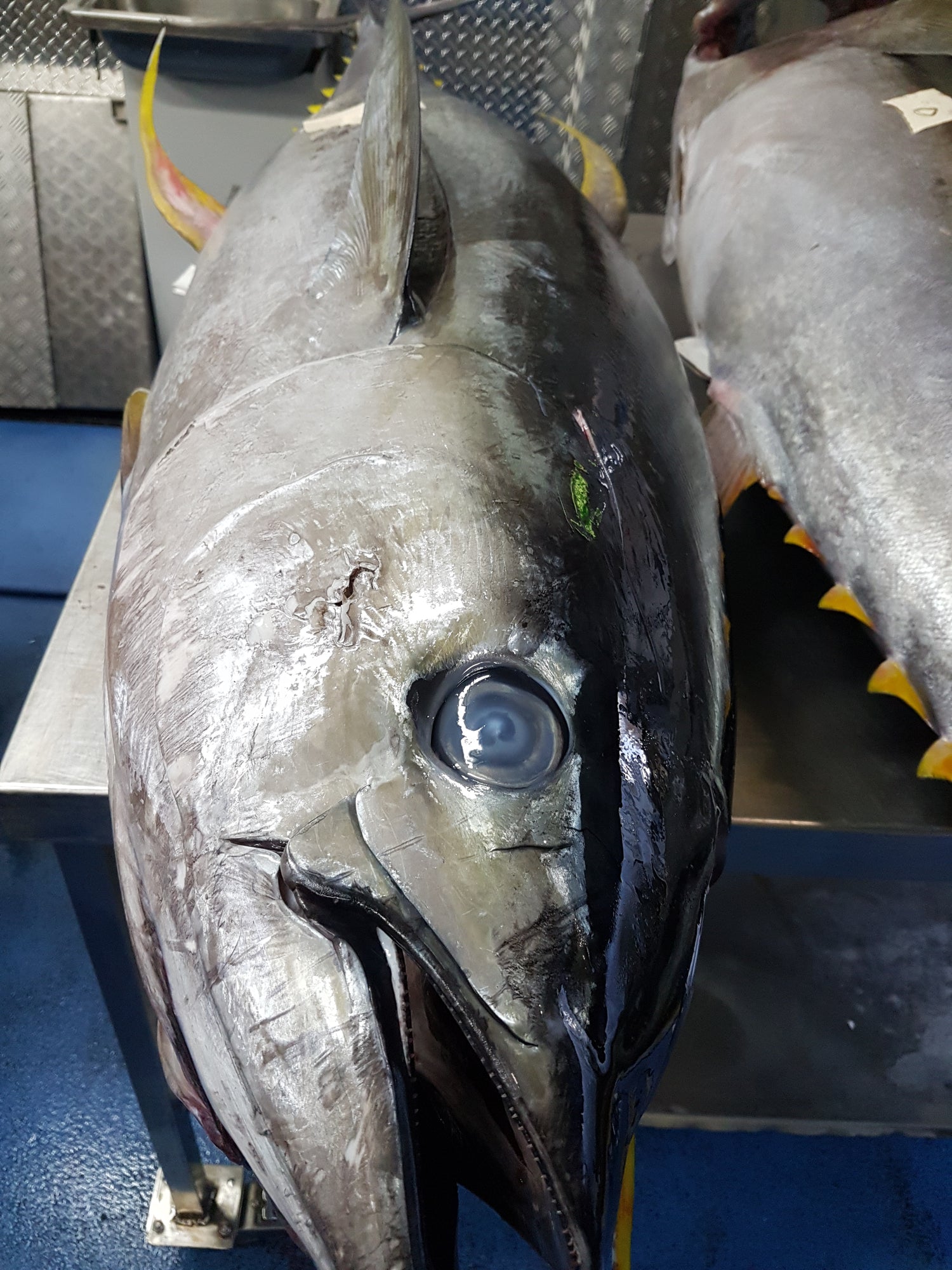 SBT Export Packing
By employing a professional Japanese tuna grader, we can provide an extra layer of assurance to our customers. This meticulous grading procedure allows us to offer suitable market pricing for our tuna exports. It ensures that our clients receive fair
and competitive prices based on the precise quality assessment conducted by our expert grader.
Our commitment to quality grading sets us apart in the seafood export industry. It not
only showcases our dedication to delivering premium products but also reinforces our reputation as a reliable and trusted partner. With Pearl
Seafood Exports, you can be confident that your tuna shipments will be consistently of the highest quality, meeting the demands and expectations of discerning buyers.
ORDER NOW